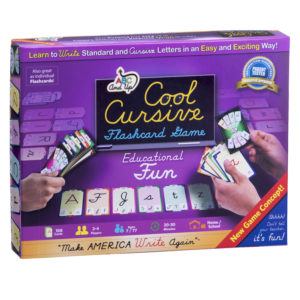 Cursive is Important- and Fun to Learn!
When we grew up, writing was important.   
With the advent of all the high-tech gizmos in our daily life, the next generation has been shortchanged.
Handwriting, especially cursive writing… is more like ancient Egyptian hieroglyphics than an important skill to master!
This all-new educational, flash card game is out to change that.
Cool Cursive teaches children to fluently identify cursive letters… by playing a FUN game! 
Cursive handwriting has been proven to stimulate brain synapses and synchronicity between the left and right hemispheres.
Give your kid an educational fun game, that also teaches them how to identify cursive letters!
Loved by Teachers, Parents, and Students!
A wonderful and educational gift for a child you love!
You'll be delighted- guaranteed!
Cards: 108
Players: 2 – 4
Play time: 20 – 30 minutes
For: Home or school